24 hours with the most Non-Compliant, Risk takers we at Veri have ever seen!
Working weekends has been par for the course, since we at VERI launched last October, as is working with clients who have the huge issue of compliance and risk in the delivery of their training.
Risk takers and non conformers were the company that I kept this weekend. Although I had been looking forward to the Cork BIC Entrepreneur Experience since we were selected from over 100 companies to participate I never would have believed I would have had the opportunities and insights for us emerging companies that occurred in Beautiful Ballymaloe House this past weekend.
The Job of the good first impression
Joe O'Sullivan was first to the stage on Friday morning with our MC Pete Smyth for the weekend, Founder of the private investment company Broadlake. (And Professional Croquet Player at Ballymaloe)
Joe worked directly with Steve Jobs at Apple and Jobs' quote "Innovation distinguishes between a leader and a follower." could have been about this quiet unassuming procurement expert that helped innovate Apple to where it is today.
He told the story of how three competing suppliers flew to the West Coast to pitch to Jobs for a multimillion distribution contact that they had all prepared for months for. Joe warned them all that Steve jobs did no dither, and expected a crystal-clear value proposition from the off. The meetings lasted minutes and Jobs made his decisions on clarity and price, simple as that.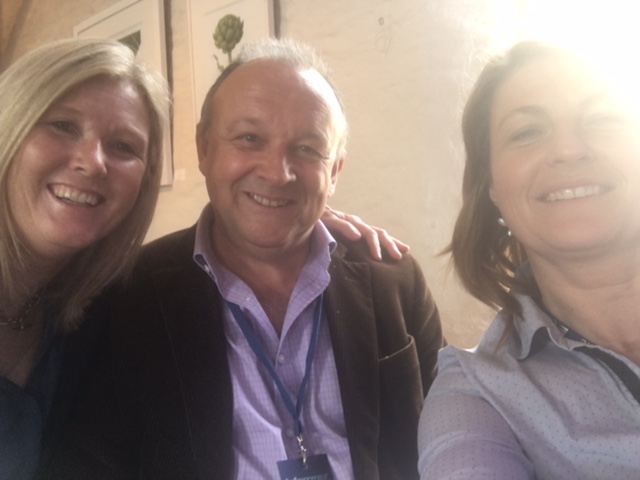 Cash is King and Diversifying
The Wikipedia definition of Diversification is the process of allocating capital in a way that reduces the reduce risk or volatility by investing in a variety of assets. Mary Mc Kenna of Tour America built a €20 million company with 50 staff and more importantly survived 9 11, Ash cloud and a recession by innovative diversification into cruising, country and many other fantastic products delivered by a team that she says are her most important asset. I was lucky enough to spend 4 hours in group sessions with Mary and her attitude to respect and relationships is something that I want to match as a core value for Veri going forward.
Pat Lynch of Cork based Compliance and Risk was an experienced Entrepreneur that knew our business sector. He has recently diversified into publishing and I spent my Sunday reading his Self-Made from cover to cover.
Clarity and CPD
Albert Einstein said "The only source of knowledge is experience" Eileen Moloney of Cork BIC and Frank Madden of Crest Solution are part of the huge wealth of experience that make up the Entrepreneur Experience. Over the past 18 months we have tried to ensure our clients are clear on what Veri provides, digitalisation of training compliance records.
Frank Madden re-enforced the need for clarity in all areas of business. Crest has managed to scale Track and Trace in Ireland, the UK Benelux and Scandinavia and Madden attributes a huge amount in continuous professional development. Whether that is with Enterprise Ireland year Long Management Development Programmes or 1 hour long E-book in between meetings, the need for constant learning is one of the most crucial in the successful Entrepreneur.
And Finally Sell, Sell, Sell.
At Veri we aim to manage the numbers for our clients, saving them time and money on training compliance. The most important numbers I heard this weekend were 2468. Donal Garrihy company services 8000 business in Ireland and the UK for products from Coffee to Water Coolers.
As Veri's mentor for the 24 hours the matching was amazing. Understanding our customers' needs by asking them about their business will identify how we can help, because according to Donal selling is really just about fixing problems in a reliable, timely and price effective way.
Donal was equally as humble and generous as the other experienced entrepreneurs I met and his patience and insight will drive us to go out, find and help new clients from Monday morning.