Wildacres Crowned Winner – All Ireland Sustainability Awards 2023
Category : Ellen Brophy
Celebrating Sustainability: An Unforgettable Night at the Inaugural All Ireland Sustainability Awards
As a company invested in cultivating and promoting sustainability, we were thrilled to be a part of the inaugural All Ireland Sustainability Awards, sponsoring the "Biodiversity Initiative of the Year" category. This aligns seamlessly with our ethos of encouraging, endorsing, designing and implementing initiatives that pave the way toward a more sustainable and biodiverse world.
The sheer volume and quality of entries across all categories were overwhelmingly impressive, showcasing a collective commitment to sustainability across industries in Ireland. This did not only showcase businesses' innovative practices and projects but also recognised and celebrated their noteworthy contributions towards creating a more sustainable future.
Uniting for a Cause
The sustainability awards gala event at the Europa Hotel was a great night of celebrations. Kicking off with the exhilarating rhythms of samba drummers, the atmosphere was great. The eloquent Danielle McCormick welcomed and ushered in an evening of celebration and a collective vow for a sustainable future with noteworthy speeches from Ross Moffett from Everun and Dakota Reid from RSPB NI, who emphasized the urgency of escalating our actions against climate change.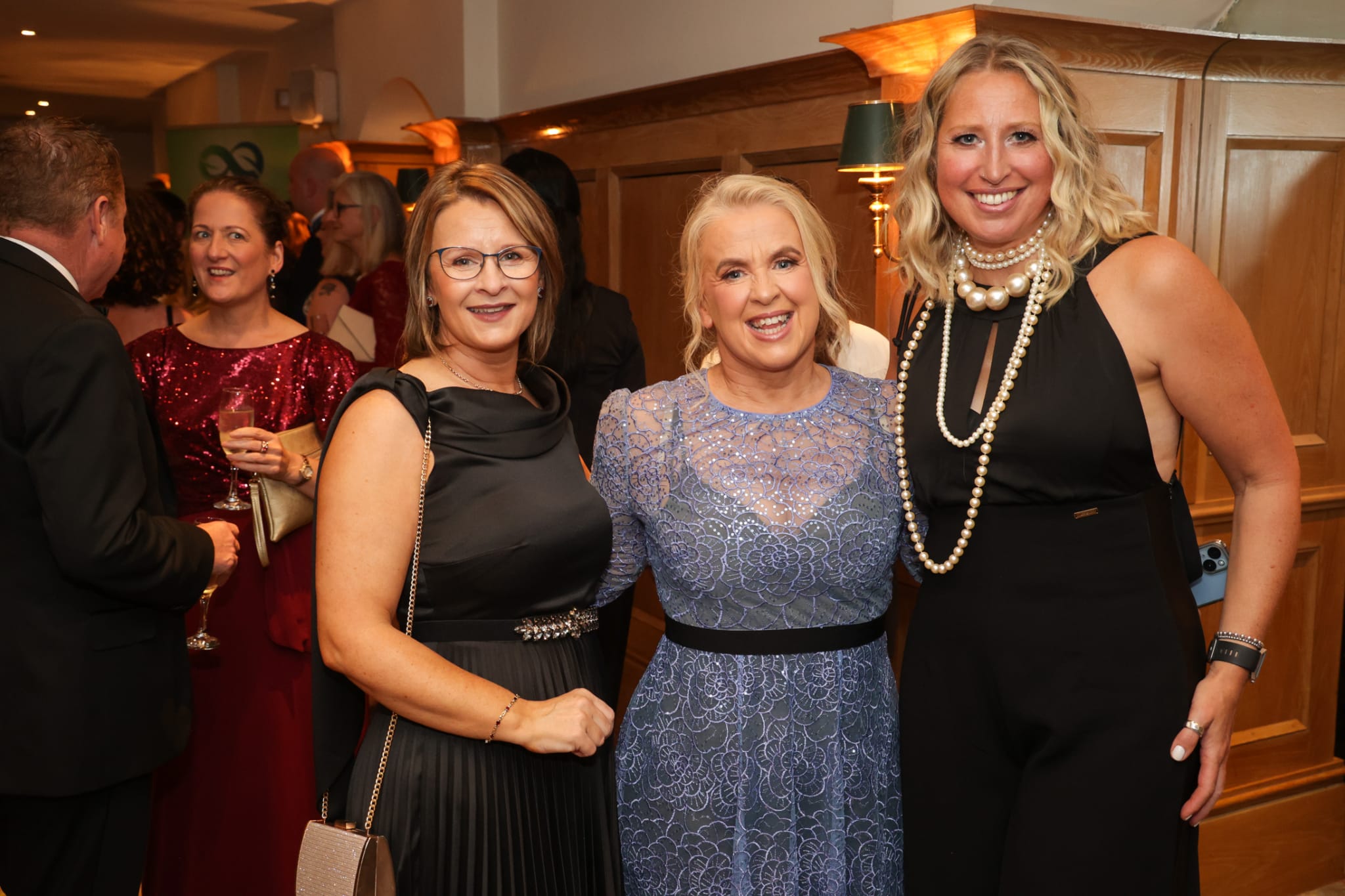 Culinary and Creative Highlights
The night wasn't merely a sustainability awards ceremony it was full of entertainment and exceptional food. Preparing a superb meal for 400 guests with locally sourced ingredients was a testament to hospitality sector. Furthermore, artist Ruthie Stewart shared insights into the creation of the beautiful trophies, reflecting a blend of artistry and environmental consideration. We were delighted to have shared the evening with Paula Smyth from LANTRA who we work closely with accrediting our Climate Action 101 Courses. Emma- louise Kells joined us from Business in the Community NI. A number of Emma-louise's colleagues are currently participating in Climate Action 101 training with Danske Bank. Carolyn Boyd of Tourism Northern Ireland and Ciaran Higgins of Belfast City Council also joined us at our table. Finally Canice & Derbhela Hamill from the European E- Learning Institute were also our guests. It was a wonderful way to network with these people and treat them to a great night full of wonderful initiatives.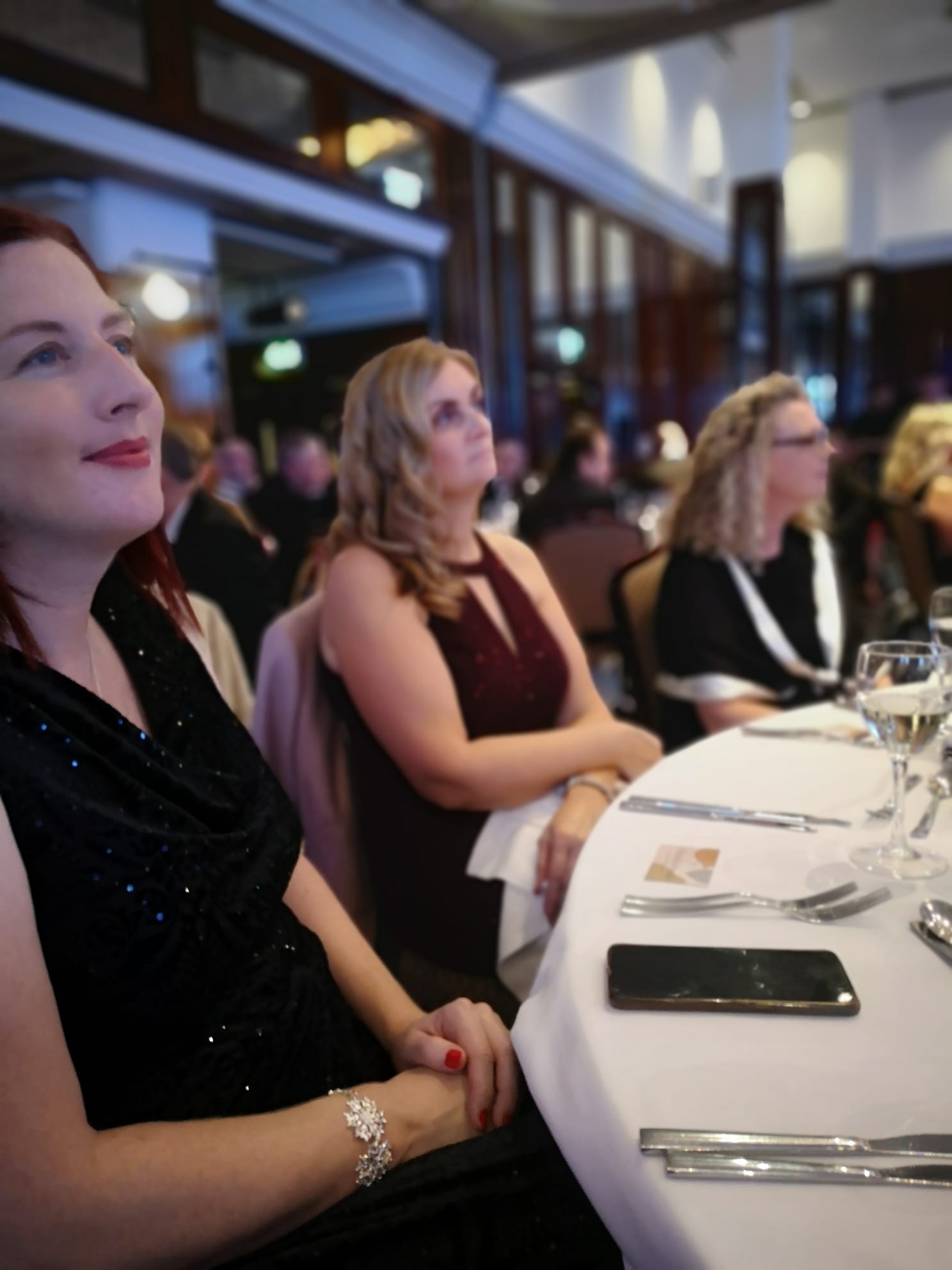 Celebrating Biodiversity and Sustainability
The "Biodiversity Initiative of the Year" saw stiff competition with finalists Breedon, Gas Networks Ireland, Mid & East Antrim Borough Council, The Green Graveyard Company, and Wildacres. Our own Amanda had the honour of presenting Wildacres with the win, who, remarkably, also clinched the Overall Winner of the Year 2023, highlighting their significant contribution towards biodiversity and sustainability. Brian and his wife Gilly run the inspiration Wildacres Nature Reserve in Wicklow. The land, generously gifted back to nature, underwent a restoration of its natural habitats, fostering biodiversity and establishing an accessible and sustainable wildlife sanctuary and visitor haven. The Wildacres project was a result of a confluence of skills, shared ideas, and a unified vision dedicated to developing an Environmental Social Enterprise. The subsequent years have witnessed not just the blossoming of flora and fauna but the fruition of unwavering dedication to sustainability and environmental conservation.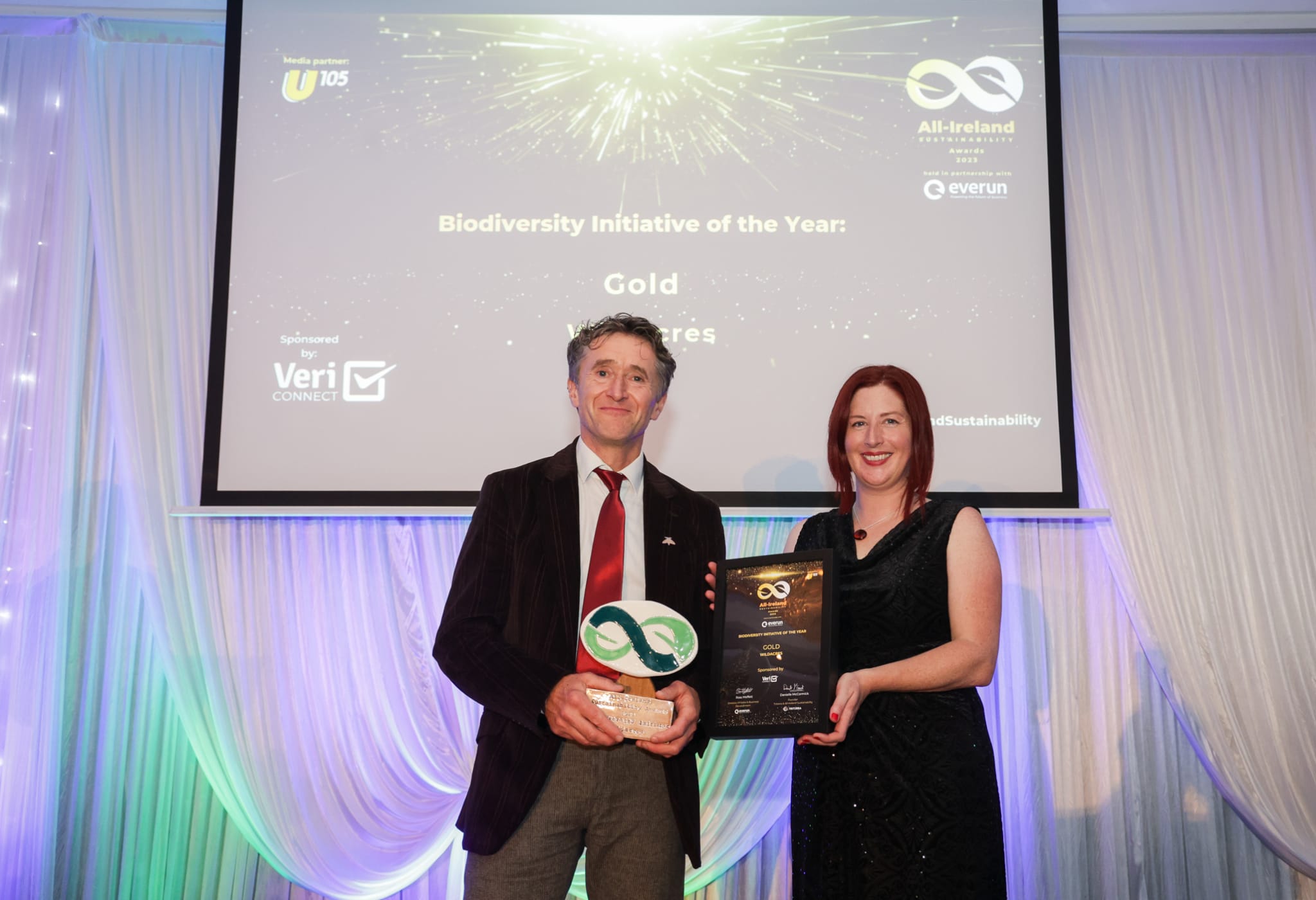 Award Winning Clients
We were also thrilled to see clients both past and present pick up awards on the night. The ESB won in the Net Zero Initiative of the Year and Dún Laoghaire Rathdown County Council & SSE Airtricity Energy Services won Energy Initiative / Project of the Year.
The Importance and Impact of Awards and Sponsorship
Participating in and sponsoring awards like the All Ireland Sustainability Awards is pivotal for businesses. It's not merely recognition but a facilitation of a platform where organizations can showcase their sustainability efforts, inspire others, and forge connections with like-minded entities. Sponsoring such events aids in demonstrating a brand's commitment to societal and environmental well-being, enhancing reputation and aligning with value-driven customers.
As we reflect upon the night, it was an embodiment of the spirit of togetherness and an unyielding commitment to sustainability. Let us carry forward this spirit in all our future endeavours, scaling and pacing our actions towards a sustainable and biodiverse future.
Please enjoy our gallery of photos featured some of our guests.