Conference Season Learning
Category : Blog
[av_image src='https://vericonnect.ie/wp-content/uploads/2018/10/Badge-pic-1.png' attachment='6857′ attachment_size='full' align='center' styling=" hover=" link=" target=" caption=" font_size=" appearance=" overlay_opacity='0.4′ overlay_color='#000000′ overlay_text_color='#ffffff' copyright=" animation='no-animation' av_uid='av-jna61nm5′ custom_class=" admin_preview_bg="][/av_image]
[av_heading heading='Conference Season Learning' tag='h2′ style='blockquote modern-quote' size=" subheading_active='subheading_below' subheading_size='20' margin=" margin_sync='true' padding='10' color=" custom_font=" av-medium-font-size-title=" av-small-font-size-title=" av-mini-font-size-title=" av-medium-font-size=" av-small-font-size=" av-mini-font-size=" av_uid='av-jna5z2w9′ custom_class=" admin_preview_bg="]
Cork BIC, Google, IT Carlow Catalyst, ETBI Annual Conference, Amplitude WIT, NILGA 2018, Crystal VAlley Tech Summit
[/av_heading]
[av_textblock size=" font_color=" color=" av-medium-font-size=" av-small-font-size=" av-mini-font-size=" av_uid='av-jna6b1sj' custom_class=" admin_preview_bg="]
"85% of Cork Bic Assisted Startups survive their first 5 years"
As Veri hits their second birthday, having launched at a CPL's FET conference back in 2016, Cork BIC's 30-year celebration event this week made me want to note the importance for our journey in meeting clients, listening to experienced entrepreneurs and working hard.
Already this Autumn we shared a stage at Google with Sarita Johnson looking at the Entrepreneurial mindset and had the great opportunity for some free advice from Sandra Healy Head of Equality, Diversity and Inclusion at DCU. With a hugely successful background in sales, we spent a good forty minutes in the green room discussing what we need for our next steps at VERI. Invaluable professional time I would have paid for and really appreciate.
With IT Carlow Catalyst launch and Cork Bic celebratory event on the 1st of October, we decided to divide and conquer. Shane Barron our CTO was blown away by the Nano Nagle centre and the content that MC Pete Smyth and Fionnula Wall's team brought to the celebration of their 30 years supporting SME's. Cork Bic and the entrepreneur experience were pivotal for Veri in its first year in business.
Veri was privileged last week to meet Minister Richard Bruton at the really well run and empowering conference by ETBI focusing on diversity. In 2017 we invested in this conference with our new stand and new idea, digitising quality to get more out of mandatory QA that paper and headaches. We had a lot of smiles and even some conversations but no definitive leads or conversions.
Roll on 12 months and with persistence and endurance, we were meeting current clients, booking demo days with decision makers and creating new partnerships.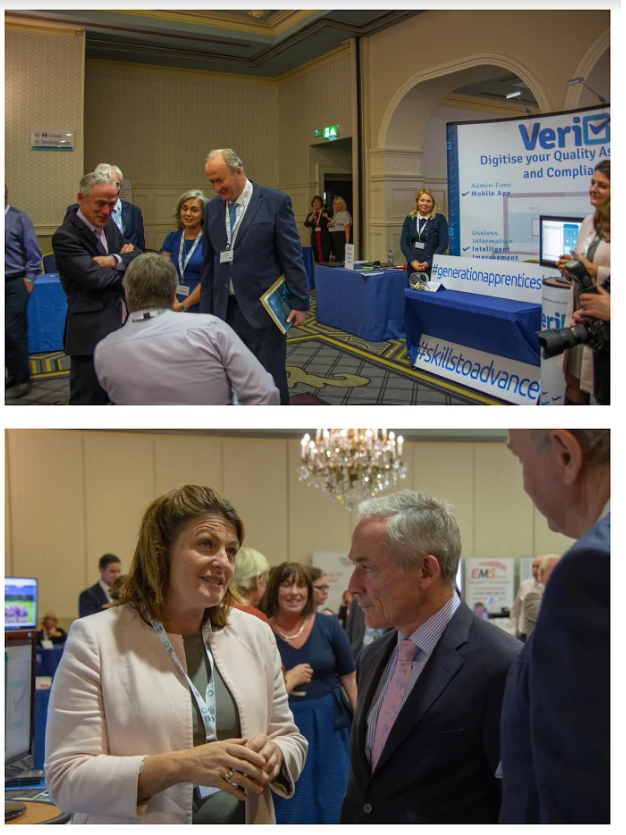 "Dr. John Teeling is quite simply a legend. If you haven't heard him speak then make sure to find his next chat session for great insights gleaned over decades and many businesses"
Conal O'Morain was the MC at the Interegg Pilot Catalyst Wales and Ireland Programme yesterday and our CEO Ann-Marie Mc Sorley had the pleasure of sharing the stage with a Dr. John Teeling, whiskey tights and UCD lectures were how he was introduced but his talk was really uplifting. The pilot of Catalyst was a mentor Programme called inspire and it was here that the kernel for Veri was born.


Dr. Teeling asked us how long we were in business and on our answer that it was our second birthday, he made me smile "you are still in the valley of death so?" Don't worry my first business took 11 years for me to make money you have loads of time!
His takeaway for me was that you have to have the passion to be the visionary for your product. You have to have the resources for money people and timing. And most importantly you have to have the resilience when things don't go according to plan. Each point hitting home as we make some important decisions about newhire of key people for the team at VERI .
So tomorrow we are off to Amplitude at the Wit Arena Waterford. #DisruptiveInnovation is the theme and with Keith Barry MC and Niamh Bushnell chairing our panel with regional disruptors we are in great company. From Wexford LEO – Vanessa Tierney, Abodoo, Waterford LEO – Richard Roger, VoxGig, Tipperary LEO – Emma Lacey, Horan Automation & Consulting, Kilkenny LEO – Ann Marie McSorley, Veri.

Later this month we are working with Crystal Valley Tech and next month we have Nilga Conference in Armagh for our NI clients. Bring together with the day job and Endurance and persistence definitely the name of the game for Conference time of year.
[/av_textblock]