Empowering Women Entrepreneurs: Change Makers and the Going for Growth Community
Being part of the Going for Growth Community has been a pivotal chapter in my journey as a Female Founder and CEO. This group of women has not just been a network but a vital support system, providing a scaffold of encouragement, wisdom, and true empathy.
The Community embraces a selection of development activities, designed with thoughtful precision to nurture each member and their businesses. After completing a cycle, participants can apply to engage in 'Continuing the Momentum' round tables, dive into topic-focused workshops, and receive warm invitations to seminal events such as the annual Community Forum.
October 2023 kicked off at a memorable event, where over 120 like-minded individuals congregated, the atmosphere was charged with collective ambition and shared understanding. The solitude that often accompanies leadership seemed less isolating and replaced by the genuine support and shared wisdom that has characterized the Forum Events over the years.
Una O'Hagan beautifully orchestrated the last session, encapsulating the key moments and contributions over the two-day programme. A spotlight was shone on Enterprise Ireland Leo Clancy's insightful contributions, KPMG's invaluable advice, and our collective endeavours to navigate the ESG challenges as team leaders.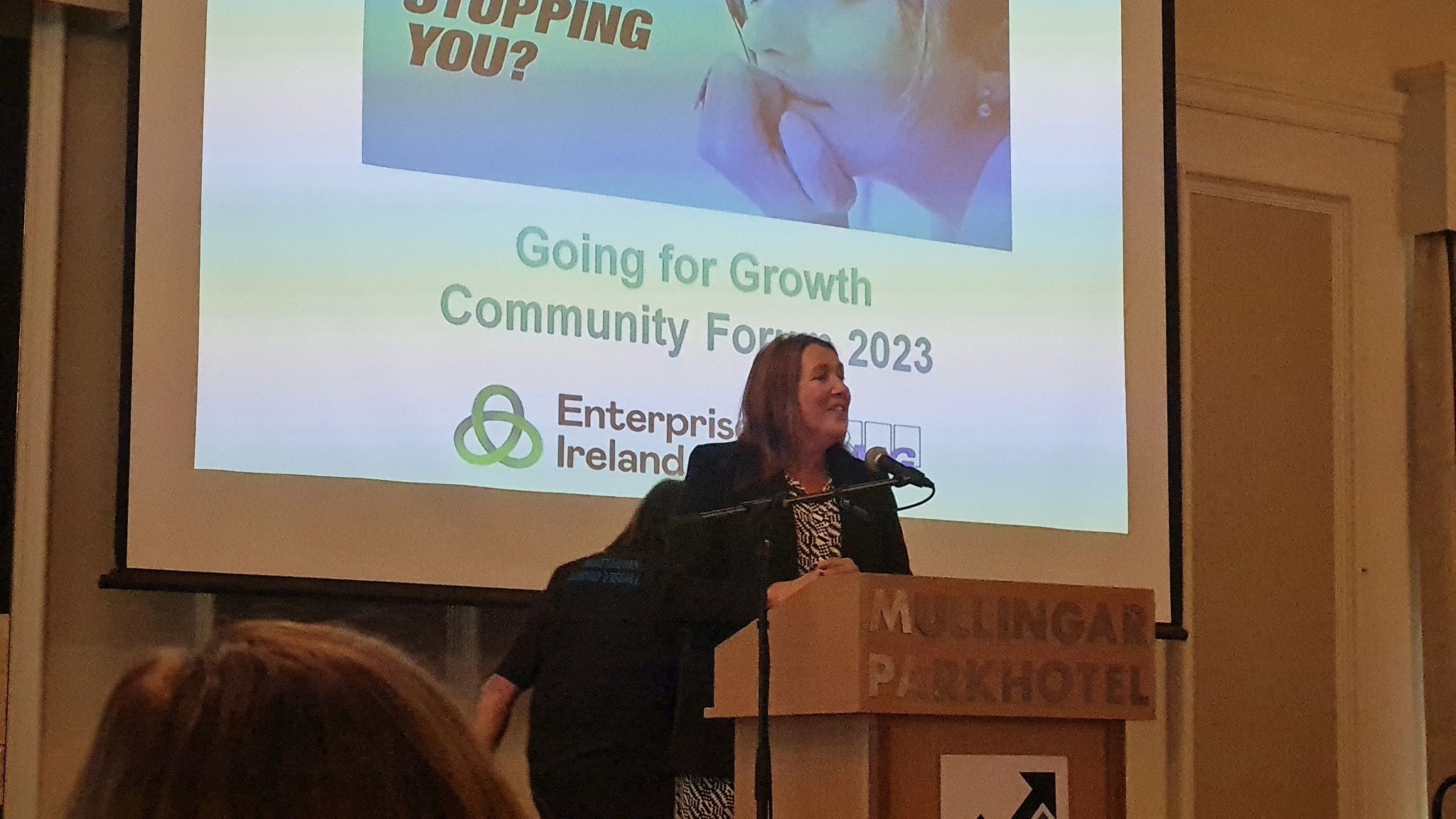 However, the moment that truly touched the heartstrings of all present was the deserved accolade to the phenomenal Paula Fitzsimons. Paula identified a gender ambition gap among entrepreneurs and crafted a suite of initiatives to foster and champion ambitious female entrepreneurs. Her remarkable achievements have dramatically shifted the scales. In 2008, data showed that for every 7.5 male entrepreneurs aspiring to establish a sizable company, there was only 1 female counterpart. Today, thanks to trailblazers like Paula and supportive governmental policies, that ratio has improved to 2.5:1 – and the journey toward an equal 1:1 ratio is in full swing.
A heartfelt thanks to all the Lead Entrepreneurs, whose voluntary guidance continues to be a wellspring of empowerment in my journey, and to Paula's diligent team – Orla Mooney and particularly Clodagh Slater, who navigated unexpected challenges with unruffled professionalism on Day 1.
Navigating the path of an entrepreneur can be lonely. Yet, within the Going for Growth Community, it becomes a collective journey of Change Makers – where shared experiences, wisdom, and steadfast support illuminate the path toward sustainable growth and success.